The Cottage
Location
Amenities
Booking
Terms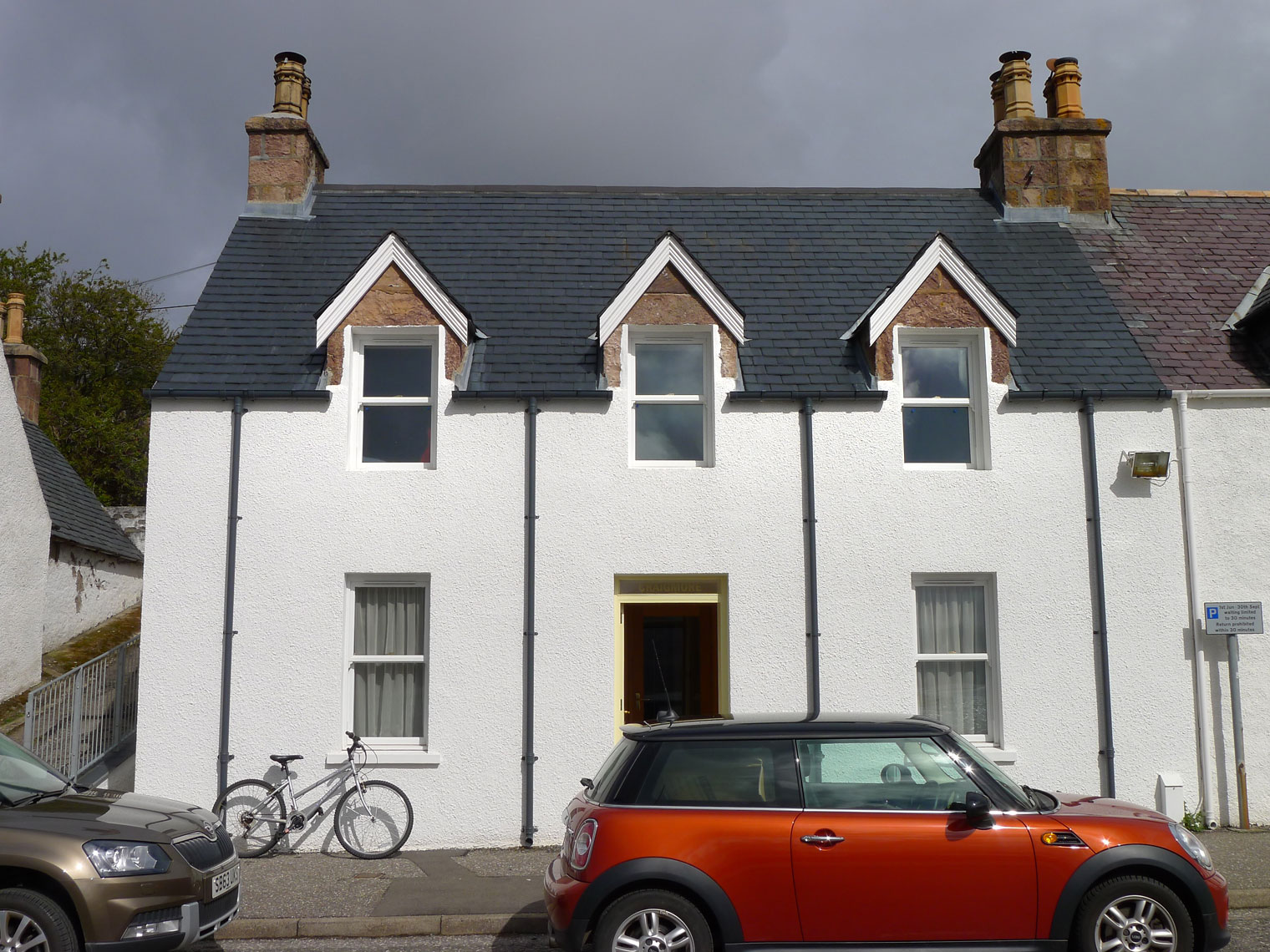 Traditional whitehouse cottage on Shore Street, overlooking Loch Broom
Where we are
Craigmore Cottage
Ullapool is 60 miles from Inverness, which has an airport, train and bus connections, and there is a good road through beautiful landscapes. The driving time is about 1 hour.
Craigmore is located on Shore Street, which is the main road along the waterfront. The house has no number, but a primrose-yellow door, two doors down from the Ferry Boat Inn. Google Maps is a little imprecise here, but it's a small village, and the house is easy to find.
GPS coordinates: 57.896487 N , 5.154932 W
The Amenities
Craigmore Cottage
Craigmore is a traditional whitehouse cottage built in the early 1900's. It is situated in a row of similar old houses on Shore Street and overlooks Loch Broom.
This has been the family house for generations, I myself was brought up here, and so when we modernised it I felt a duty to do it well.
Times have changed so, to gain the best views we have made it an upside down house.
Upstairs is a large bright open plan space. The sitting area is beautifully furnished, and with the spectacular views over Loch Broom and the busy harbour filled with boats, and the wood burning stove, it is a wonderful retreat from the world.
The kitchen is fully equipped with ample seating for six.
Downstairs, on the ground floor, is a lovely, comfortable twin bedroom with a separate walk-in shower room with power shower and heated floor. Opposite is the snug: a cosy room for watching television or lounging with a book. There are board games, jigsaws and a game console; plenty to keep you occupied on a rainy day. By special arrangement, the sofa can be transformed into a double bed.
There is a second bedroom upstairs with an ensuite bathroom, and a small garden room with access onto a private terrace.
Ullapool is a busy village filled with pubs, cafés, galleries, shops and restaurants, and Craigmore is a comfortable relaxing retreat from the bustle, and warm and snug to come home to after a day spent in the great outdoors.
Features include:
Sleeps 4 (6 by special arrangement)
Linen & towels provided
Open-plan living / dining
Fitted kitchen with dishwasher, washing machine and microwave
Sea views and wood-burning stove
Two bedrooms with sea views and shared shower room
One bedroom with en-suite bathroom
Garden room and small terrace
Free wi-fi broadband
Electric heating
On-street parking
Craigmore Cottage
To enquire as to price, availability, or to request a booking, please email us and we will get back to you. Please include your name, address, home phone, mobile phone, the week(s) you wish to book and the number in your group. We will respond with confirmation, and additional information (including deposit required and means of payment).
Other Information
Saturday to Saturday weekly lets: check-in time from 4pm, departure by 10am
Included in the rent: bed linen and towels; initial supply of coal/wood and kindlers for open fire
Off-peak short lets (November - February) : 2 nights or fewer = 50% of week rent, + 10% per additional night
Terms
Craigmore Cottage
We really want you to enjoy your holiday and to ensure this we have the usual kind of terms and conditions so please read on.If you have any questions about them then email us before you book and we will be happy to respond.
A contract shall only arise between us when we send you a Booking Confirmation by post or email, AND you have paid the deposit.
A non-refundable deposit of one third of the rental is required at the time of booking. The balance is due six weeks before the arrival date. Bookings made less than 6 weeks before the start date must be paid in full at the time of booking.
If you have to cancel for any reason, you must notify us in writing/by email. We will then make an attempt to re-let the property. However, if this is unsuccessful, you must still pay us the full amount outstanding for your holiday. We therefore strongly recommend that you take out holiday cancellation insurance.
Payment may be made by sterling cheque, or bank transfer.
Please note: no smoking or pets inside the cottage.
The maximum occupancy is four persons and this must not be exceeded. We reserve the right to terminate occupancy of the property without notice or refund in the case of a breach of this condition.
The property shall be used solely for the purposes of a holiday and you shall not sub-let the property or any part of it or any of its equipment.
You must take care for your own safety. In particular, given the location of the Cottage, children or dependant adults MUST be supervised at all times when outside. Use of the property is at your own risk and no liability shall fall on us for any injury to, or loss of personal belongings of, the occupants.
You will maintain the property and its contents in the clean and tidy condition you accept it at the start of your holiday. Any breakages must be paid in full.
In the unlikely event, and where the Holidaymaker is not already in breach of these Terms & Conditions, we find it necessary to cancel the holiday accommodation or advise of a major alteration to the same, we will refund in full all monies paid and be under no other liability.
By paying the deposit (or full amount), you are deemed to have accepted these terms and conditions and you must ensure that all members of your party understand and comply with them.
Thank you for reading and we hope that you come and stay with us.